"The tourism industry's forecast of continuous high growth in the next decade will create fantastic opportunities for Vietnam.  Not only will it be a great means to introduce Vietnam to the world, but it will be Vietnam's most important industry for job creation and prosperous communities."

Trần Trọng Kiên
Chairman and CEO of Thien Minh Group
Originally Kiên studied to become a doctor and ran local tours to fund his medical studies.  He enjoyed the tour business so much that he decided to found Buffalo Tours in 1999.  Since then Kiên has pioneered many adventure tours in Vietnam, Cambodia and Laos.
Buffalo Tours is now one of the top tour operators in Southeast Asia and the perhaps the most innovative tour company in Vietnam.  Thien Minh Group also owns other brands such as Mai Chau Lodge, Festival Hue Hotel, Intrepid Vietnam, Cho Lon Tours, Asia Outdoors Vietnam, iViVu online travel bookings, Xiengthong Palace, Intrepid Indochina and Victoria Hotels & Resorts.
Kiên graduated as a General Practitioner from Hanoi Medical School.  He also holds a BA in English from Hanoi Foreign Language University and an MBA from University of Hawaii at Manoa. He is a member of several professional and social organizations including Board member of VPBank, one of the top 5 banks in Vietnam.
I wanted to meet Kiên after reading about him in a magazine.  A mutual friend introduced us.  We sat down for lunch recently to swap travel stories.
Chris: What was your first job and the biggest lesson you learned from it?
Kiên: My first job was unloading cement bags from trucks to the warehouse.  I did it while waiting for result of the entrance exams to Hanoi Medical School.  It was hard and it did not pay well, about 50 cents per day.  My big lesson was do not waste resources and count every cent as it takes a lot of sweat to earn.
Chris: Who gave you the best business advice?
Kiên: I have many mentors.  For a decade now, I have built an advisory board apart from the company board.  I found good mentors in each industry as I moved from medicine to travel to hospitality and recently to banking. I am very glad that some of my mentors are the best people you could find here.  They give me valuable daily advices.
Scroo Turner (founder of Flight Centre – one of the most successful travel businesses in the world) said; "Business is tough.  You always have competitors.  It gets nasty sometimes but business should never be life threatening."  The advice is business is indeed less dangerous than climbing a mountain.
Chris: What's the one thing every entrepreneur should know about starting a business?
If you are serious about starting up your own business you should get yourself mentally ready for failure.
Chris: What's the one thing you wish every new hire at Buffalo Tours knew?
Kiên: Energy!  You need plenty of it if you are to succeed in Buffalo Tours.
Chris: What is the greatest challenge and opportunity for the tour industry in Vietnam?
Kiên: Over the last two decades, tourism industry in Vietnam has been growing fast — 5-8 times faster than the average growth of tourism across the world.  That is however from a very low base.  The challenge is how to continue this growth while making the industry more sustainable. That means we don't want to use up resources and take away opportunities from our children and grand children.
I think we could be better at:
More efficient investments in tourism through better positioning, planning and forecasting.  Resources are scarce and are spent best where we can maximize returns.  I quote one of our General Managers – "It is too expensive to invest cheaply."  Vietnam should focus on quality of tourism and not number of inbound tourists while promoting more quality domestic travel experiences for the local population.
Developing higher standards and human resources for tourism.
More focused destination and product promotions.  We hardly have any decent promotion.  Our activities are not well coordinated.
Remove all unnecessary administrative barriers.  We should create visas on arrival for all foreign visitors as well as a better and more consistent tourist information  network.
I believe tourism is one of the few industries where Vietnam could really excel and compete well with neighbouring countries.  Inbound tourism will continue to grow thanks to better air and land connections, attractiveness and safety of the destinations.  Domestic and outbound tourism will boom due to growth of the urban middle classes and increased disposable income our the society.
The industry's forecast of continuous high growth in the next decade will create fantastic opportunities for Vietnam.  Not only will it be a great means to introduce Vietnam to the world and promote peace and cooperation, but it will be Vietnam's most important industry for job creation and prosperous communities.
Chris: What was the toughest decision you've had to make as a manager?
Kiên: Start a code fight with someone in order to protect interests others.  I don't mind a fist fight but I'm glad I don't have do make those decisions often!
Chris: Do you have a favorite business book?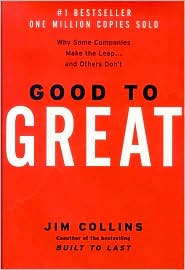 Kiên: I read a fair bit.  I like books which are light and easy but give useful advices.  One of my favorites is Jim Collins' "Good to Great."  If you are in the tourism industry I recommend a fantastic book called "Family Village Tribe."  It's the story of Flight Centre Limited.
[If you enjoyed this interview, why not leave a comment below?  Also, check out my and anh Kiên's joint TV interview where we discuss leadership and building great teams.]